Young Louis ready to drive Go Goodwins
It's a new era for the family business as 16-year-old Louis Goodwin prepares to take the helm from dad Wes in just five years' time. After all, he's been learning the ropes since he was 12
Eccles-based operator Go Goodwins has made its stamp on the Manchester and Bolton transport scene over the last 40 years.
And its youngest family member Louis Alan Goodwin is preparing to take on the legacy, learning the business inside out, during school holidays, and now as an apprentice in the workshop.
In 1976 Alan Edward Goodwin started working with his granddad at York Motors in Chorlton-cum-Hardy as a mechanic. A year later he started Goodwins Coaches from his home in Benchill, Wythenshawe.
Within a year his son Geoffrey Alan joined the business, aged 19 and by 1980 the company was developing further and needing new premises.
In 1983 the operation was moved to Stockport and got a new garage and workshop.
Alan's grandson Wesley (Wes) says: "Grandad was always buying and selling and had between five and ten coaches at any given time.
"It was anything and everything. We had a lot of AEC's and Plaxton Elites – all 53-seaters.
"It was all used vehicles until 1989 when he bought a new Volvo B10M Jonckheere."
High-end contracts
As the operation grew it started picking up new contracts along the way. One of which was Altrincham Aces Ice Hockey which turned to Trafford Metros. By 1985 the firm had built up a solid reputation and began to earn high profile contracts, one of which was Manchester United Football Club.
In 1994 it bought Erics Way Coaches and moved to larger premises in Salford. Just after that Geoffrey's 18-year-old son Wes joined the company.
Times weren't always easy. In 1995 the whole fleet was destroyed in a fire on the eve of Bonfire Night.
However, the family was determined to continue the Goodwins name despite having to start from scratch again. With the strong connections they had built over the years and the trusted client base the firm was soon back on track.
Over the next few years the coaches became more and more bespoke for higher end use. The company began renting its luxury coaches to some of the biggest artists in the world at the time including Justin Timberlake and Britney Spears.
Goodwins also obtained the official coach contract for the England Cricket Board (ECB)
Read the full article here – https://www.route-one.net/operators/young-louis-ready-to-drive-go-goodwins/
State-of-the-art MOT test station
We appeared in the Messenger Newspaper the other day, see what we are up to here at Go Goodwins Coaches! Our brand new state-of-the-art MOT test station is now ready to go!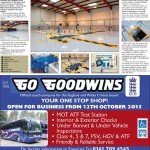 Best Executive Coach
We won the "Best Executive Coach" for the past few years running, Go Goodwins!
Van Hool TX16 Astron MAN – A quality all-rounder
Some months ago we had plans to evaluate a stock Van Hool TX16 Astron with Moseley (PCV) Ltd, having previously sampled the lower height TX16 Alicron (B&CB issue 1190, 7 September 2012). Finding a mutually suitable date proved difficult and before we were able to conduct the test the coach was bought by Go Goodwins of Manchester. Hearing of the situation, Wes Goodwin offered to make the Astron available once it had been painted and prepared for his family's Eccles based company and at the end of last month Andrew Fowler and I went to Manchester to try it out.
GoGoodwins to continue the Regency Road tradition
Eccles, Manchester based GoGoodwins Coaches is to start a new heritage coaching arm that will carry on the tradition of the
Regency Road Pullman Touring Company, which marketed itself using the slogan, 'Possibly the only Tour Company of its kind in the World.' The new operation will trade as Goodwins Classic Coach Tours (incorporating Regency Road Pullman).
Northwich, Cheshire, based Regency closed earlier this year having provided it own brand of specialist touring using ageing Plaxton bodied AEC and Volvo coaches for the previous 14 or so years. Before that, Clive Screaton and his daughter, Sarah, had been involved in the Grand Edwardian Touring Company, using even older AEC stock. It was Sarah's decision to finish. The operator's licence was up for renewal and having married Robert Phillips in December, she wanted a more 'normal' life.
There was also a recognition that the coach industry is changing and they were finding it difficult to keep up with all of the new requirements.
Click on the link below to read the full magazine.
Consistently on target delivery
Go Goodwins Coaches, an independent operator until recently better known for its coaching activities than for bus operation, topped the Transport for Greater Manchester (TfGM) supplier ratings throughout the year running from April 2011 to the end of March 2012. Calculated on the basis of an operator's performance against 15 key indicators, supplier rating scores (Go Goodwins' is currently 95.93%) are more than just an ego boost for the operator concerned. They are important because in order to be invited to tender for TfGM minimum subsidy tenders, the organisation requires that in addition to qualifying for its preferred suppliers list (PSL) the supplier rating should be 72.5% rising to 75% from October this year.
Coaching roots
Go Goodwins is a family business with three generations involved, all of them mechanically minded. A couple more generations worked in coaching before them, albeit in a very different business environment to that of today. Now in his seventies, Alan Goodwin is the eldest of the trio. He still provides advice (and interference) for his son Geoff, Geoff's wife Suzanne, grandson Wesley and Wesley's wife Sally, who manage the business today.
CLICK ON THE LINK BELOW TO READ THE FULL MAGAZINE.