Welcome to our new brochure for 2020!
Together with the re branding as Go Goodwins Platinum Coach Holidays, because your time is the most precious gift. After extensive research and customer feedback, we decided that we need to stand out from the crowd, as we are not your usual coach holiday company. Our coach holidays are inclusive of day trips, admissions, boat trips, train rides etc (as stated in the main itinerary) as well as the extra that you have come to expect.
The vast majority of hotels that we use are four star and most have spa facilities/swimming pools. All our holidays are "double manned" with class coaches, which really are top of the range, with seats around tables, tinted panoramic windows, air conditioning and of course a toilet for your piece of mind. We are also introducing on board packs to include crosswords, word searches and Sudoku to keep you occupied during your journey to your chosen holiday resort, as well as a traditional "guess the mileage" competition.
As you can see when you "go with goodwins" you really do "go in style" with the highest level of service. We hope you find a coach holiday of interest, and look forward to welcoming you on board soon.
Wes, Sally and the team at Go Goodwins Platinum Coach Holidays.
We Are Good to Go! COVID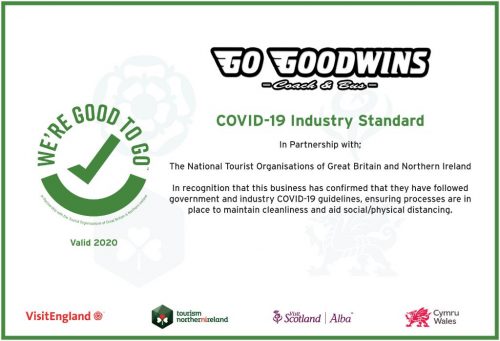 Find out COVID policy here – COVID-19 Statement